Frequently asked questions
How do I install Lightroom Presets?
---
How to Install Lightroom Presets Desktop 1. In Lightroom, under the File menu, select "Import Develop Profiles and Presets". Select the .xmp file and press enter. 2. Enjoy your new preset under the ColoriFi Collection! Mobile 1. Use your preferred file sharing program to move the .dng file to the "Files" app on your phone. 2. In the Lightroom Mobile app, tap the "add a new photo" icon and select "From Files". Next, tap the .dng file. 3. Navigate to your photos, and select the newly added photo. 4. Tap the "Presets" icon on the bottom toolbar.
5. Tap the three dots in the upper right hand corner. Select "Create Preset". Give your preset a name.
6. Enjoy your new ColoriFi preset! Your preset will now be available under the "Presets" icon. DON'T FORGET TO TAG #COLORIFI IN YOUR PHOTOS
---
How will I get my files?
---
Once payment is made, you will be redirected to your instant download page where your files will be waiting along wtih PDF instructions.
---
Is my device compatible?
---
ColoriFi presets are compatible with Lightroom 4, 5, 6, Lightroom classic CC, and your Lightroom mobile app. Supported image types include Adobe RAW, TIFF and JPEG images. ColoriFi presets work with Mac, Windows, iPhone and Andriod devices. Please use the approriate preset for your platform.
---
How do install Lightroom Presets on mobile? (How-To Video)
---
Download the free Lightroom Mobile App: https://apps.apple.com/us/app/adobe-lightroom-photo-editor/id878783582 Watch our How-To video for a step-by-step guide on how to add a preset to your phone. *We recommend that you have the "Files" app installed on your phone and that you are updated to the latest version of IOS.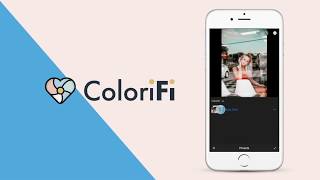 ---
What are Lightroom Presets?
---
Lightroom Presets are pre-made, hassel-free filters for your photos! Use a lightroom preset to instantly give your photos a more professional look.
---
---